Get away to a place where the sunrises are incredible, where history lives on, to a place of quaint beauty and unmistakable flavor. A tropical world where sea, sand, and soul find their own unique place in the sun, Galveston Island is where the Texas coast begins. Warm breezes and temperate seas await you on Galveston Island, one of the oldest port cities on the Gulf Coast. Galveston's history and authentic charm make it a favorite seaside escape for any season. Galveston is one of the most accessible beach destinations in Texas and easy 45 minutes southeast of Houston yet the minute you set foot on our shores you're a world away.
If you are new to the island, make your first stop at one of the Galveston Island visitor information centers. Here, you'll find a warm greeting and plenty of help to plan the perfect island experience. If a place in the sun is what you are seeking, Galveston Island offers an abundance of sand and surf featuring more than 32 miles of Texas best beaches like Stewart Beach, the islands premier family beach park or East Beach with its cool refreshments and live entertainment. Whether it's swimming, sailing, catching a wave, biking, or just a casual stroll on the sand, the island's warm sun and mild Gulf breezes make it an outdoor lover's paradise.
Galveston is one of the nation's top birding locations too with three-quarters of all North American bird species traveling through Galveston during spring and fall migration, it's no wonder that novice and experienced birders alike flock to the island. If marine life is your fancy, take a tour of NOAA's sea turtle center the only research facility of its kind dedicated to the preservation of these magnificent sea creatures.
For year-round fun on a grand scale, try an adventure to Moody Gardens one of America's most unique family entertainment parks. At Moody Gardens, you can explore the tropical wonders of the rainforest pyramid. Marvel at life beneath the sea in one of the world's largest aquariums, venture into the world of science at the discovery pyramids, buckle up for thrills of the 3d IMAX and IMAX ride film theaters, jump into the action at the 4d special-effects theater or just take a leisurely stroll on a pure white sand beach. For cool family fun with a Bavarian twist, brave the roaring rapids at Schlitterbahn, a texas original. With closable sections for year-round fun, Schlitterbahn Galveston Island is truly one of the most innovative parks of its kind in the world. Featuring acres of thrills and plenty of chills, Schlitterbahn is sure to make a big splash with the whole family.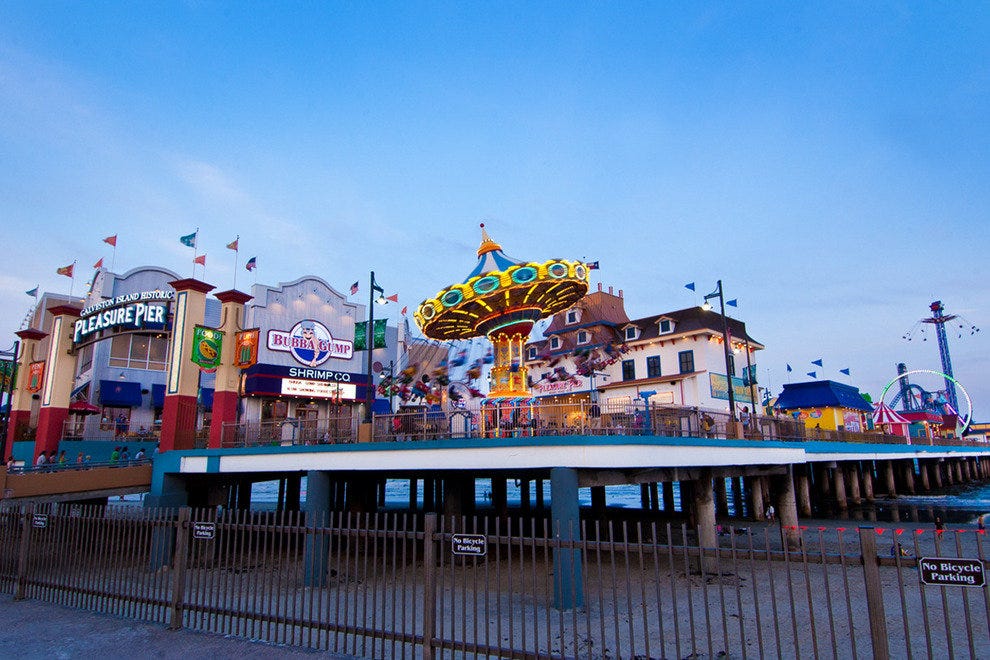 A trip to Galveston Island is a step back into the past, from the days when explorer Cabeza de Vaca and pirate Jean Lafitte walked the shores to today, Galveston has built a rich and colorful history. One great way to take in the sights is by taking one of the many Island tours. Whether on foot, trolley, carriage or even both, local guides will help bring the past to life. At the heart of the island is the Strand National Historic Landmark District including the post office, street art, and entertainment district. Home to merchants, restaurants, galleries, nightclubs, and antique shops, this vibrant 36 square block district is a living reminder of a bygone era and the center of a thriving arts community.
The crown jewel of the area is the grand 1894 Opera House designated the official Opera House of Texas. Lovingly restored to its original grandeur, a night at the Opera House is a memorable experience. Take a trip through time in Galveston's many one-of-a-kind museums like the Galveston County Historical Museum offering a look at the islands colorful past from its founding in the 1820s. The Galveston Railroad Museum and Centre for transportation takes you back in time to a remarkable era when steel rails moved a nation. At the Texas Seaport Museum on the waterfront, you'll get a glimpse of Galveston's rich maritime history. Then climb aboard the 1877 tall ship ELISA and explore the decks of this proud Lady of the sea designated as one of America's treasures by the National Trust for Historic Preservation.
Whether it's a romantic getaway or a family vacation, Galveston offers accommodations for any budget, from charming bed-and-breakfast inns to luxury condominiums, from unique seaside resorts to grand hotels.