Edmonton spreads along the banks of the North Saskatchewan River. It is also the capital of Alberta. Due to its economic prosperity, Edmonton has investments in culture and art through the construction of remarkable museums and theaters.
But what the city is most known for is the West Edmonton Mall which is one of the biggest shopping and leisure centers worldwide. Shoppers can still be found lingering around this mall even when the temperature is not that favorable.
There are a lot of scenic locations in Edmonton, and some of them are listed below. They include;
Elk Island National Park & Beaver Hills
This national park is home to a variety of wildlife ranging from deer, elk, beaver, and moose. But the major attraction that thus national park which encloses a wooded section with wetlands and lake is the massive herd of bison which can be seen grazing in an enclosure. Anyone who is slowly driving on the road of the park is bound to see one of these large animals.
West Edmonton Mall
This is the biggest shopping center in Canada and also one of the largest worldwide. Additionally, it is a major attraction for tourists. Asides from numerous restaurants and shops, this facility is also made up of an ice rink, movie theaters and a massive water park among others.
Galaxyland is located in the mall is one of the largest occupied amusement parks located indoors worldwide. There are a variety of rides including a roller coaster which is triple looped.
Fort Edmonton Park
This is another museum which is open air. This park consists of ancient buildings that have been renovated to show the historical development of Edmonton.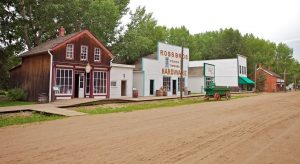 The buildings consist of a normal 1846 fort which is owned by the Hudson Bay Company, buildings from the 1920's, a street from the initial town of 1885 and a host of others. There are various means of old transport available, and visitors can ride a steam line or a wagon drawn by a horse. There are also various exhibits about ecology and local geology in the John Janzen Nature Center close by.