In Ottawa, Canada there is a long list of beautiful places one can visit to appreciate both nature and human works.
Below are ten from the list;
National Gallery of Canada
This is an architectural masterpiece. Its design comes with beautifully designed prism-like glass towers. The beauty of National Gallery of Canada is better experienced than reading. You will also be able to see its wonderful collections.
The RCMP Stables
This is a home for both horses and officers. Here, Stables train horses for the RCMP Musical Ride. It will be a nice idea to see RCMP musical ride even if it's just once.
Dows Lake Pavilion
This is a beautiful place to behold. Its placement overlooks the lake. Also, the pavilion looks over the docks where you rent canoes, paddleboats, bikes or kayaks. During the winter, tourists can rent sleds and skates. It is pavilion filled with fun.
Canadian War Museum
This can be found close to the Ottawa River. This modern museum will enable you to explore Canada's military past via the display of exhibitions as well as artifacts. You can simply know Canada from its past.
Parliament Hill
This is the most visited place in Ottawa. This is one of the attractions frequented by the team at Happy Wife Happy Life Edmonton. There are wonderful events which are free. These include changing of guard ceremony every morning in summer and the sound and light show in the evenings. This will definitely leave memories to cherish with you.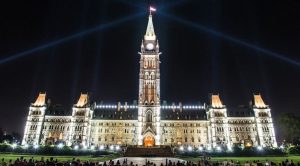 Canada Aviation and Space Museum
Here is another you need to visit. It is located at the Rockcliffe Airport. This museum will give you the details of Canadian civil and military aviation's past. You will love the objects in this museum.
 The Upper Town
The Upper Town of Ottawa is known for its beauty. It extends beyond the Parliament Hill and the Rideau Canal southwest. This is really a beauty to behold.
Canadian Museum of Nature
This museum reinforces the ingenuity of the existence of dinosaur in the time past. Here you can see images, skeletons of long existed dinosaurs. It will help you upgrade your knowledge on animals.
 The National Archives Of Canada
Here, you can find things that pertain to the history of Canada. One of such the items you can find here is the largest collection of Canadian sheet music in the world. You will also find works of art such as sketches,  oil paintings, and water colors.
ByWard Market
This is wonderful and beautiful farmers' market to behold. It is highly colorful. It is a shopping district during the day, restaurants and turns to clubs during the night.