Kingston, a former and first capital city of Canada is now a flourishing city containing many of the province's most captivating stories.
Checkout the information below on some of the most interesting places to visit in the city as well as things to do and see in the city ranging from the city museums to tour of picturesque trails and a lot more.
Kingston City Hall
The Kingston City Hall houses the city's principal local government. The City Hall, designed by George Browne is a neo-classical architecture masterpiece that gives a magnificent and unforgettable view of the city's skyline. The City Council is located inside the City Hall just like it was during the government of Sir John A. Macdonald, Canada's first Prime Minister. Between May and October, guided tours of the City Hall building are organized to learn to appreciate its history and use.
Kingston Public Market
Running since 1801, Is Kingston Public Market! The public market takes place in Kingston city Springer Market Square and runs from April to November. On Tuesdays and Thursdays, the market is filled with local flowers sellers, fresh produce, baked goods sellers,  such as baked goods from the very popular Wolfe Island Bakery, and other products from artisans and vendors. On Saturdays, the market is for antique businesses and buyers along with events and performances by the locals, including live cooking events by some of the city's local chefs.
Correctional Service of Canada Museum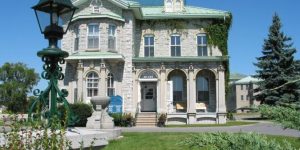 This Museum is also popularly known as Penitentiary Museum; the museum shows the roles played by the City of Kingston in Canada's correctional. Kingston at a certain point had seven prisons fully operational inside the city, which is an unusual number for a moderate size city like Kingston. Presently, the city has two operational correctional facilities and four in its surrounding areas. The Penitentiary Museum preserves this complex, yet important part of Canada's history.
The Wolfe Island
Wolfe Island is the largest among the 1000 island, and it's a well-populated island located a little distance offshore from Kingston city. Marysville, the island's biggest town contains a beautifully arranged line of cafes and stores which are most popular in summer. Also in summer months, the sandy beaches with breathtaking crystal clear water located in the Sandy Bay area will make you feel like you are on a super exotic island and not Lake Ontario's shore. The Big Sandy Bay area can also be accessed by ferry.